Onde assistir as séries indicadas ao Emmy 2023
12/07/2023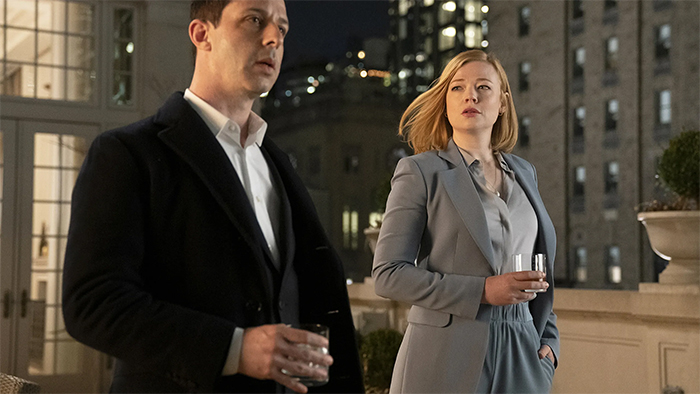 A ATAS (Academia de Artes e Ciências de Televisão dos EUA) anunciou nesta 4a feira as produções indicadas ao Emmy, mais importante prêmio do setor. Muitas das séries e filmes indicados já estão em exibição no Brasil, nas principais plataformas de streaming.
Esta é a 75a. edição do Emmy, conhecido como "Oscar da TV". Com mais de 600 produções qualificadas para o prêmio, os mais de 20 mil membros da Academia indicaram 60 delas aos prêmios de melhor série e filme em drama e comédia, além dos prêmios de interpretação, roteiro e direção.
Sucession, série de grande audiência na HBO, volta a ser a maior favorita com um total de 27 indicações. A HBO tem também as duas outras séries mais lembradas pelos membros da Academia: The Last of Us, com 24 indicações, e The White Lotus (23). Ted Lasso, da Apple TV+, vem a seguir com 21 indicações.
A festa de entrega do Emmy 2023 está marcada para 18 de setembro, em Los Angeles; antes, nos dias 9 e 10, haverá o anúncio dos vencedores nas categorias técnicas.
Veja a seguir a lista das séries e filmes indicados e em quais plataformas estão disponíveis. E confira as resenhas de quase todas essas produções no guia HT-Streaming.
DRAMA
MELHOR SÉRIE
Andor – Disney+
Better Call Saul – Netflix
The Crown – Netflix
A Casa do Dragão – HBO Max
The Last Of Us – HBO Max
Succession – HBO Max
The White Lotus – HBO Max
Yellowjackets – Paramount+ e Prime Video
ELENCO
Mal de Família – Apple TV+
The Crown – Netflix
The Last Of Us – HBO Max
Succession – HBO Max
The White Lotus – HBO Max
Yellowjackets – Paramount+ e Prime Video
DIREÇÃO
Benjamin Caron: Andor – Disney+
Dearbhla Walsh: Mal de Família – Apple TV+
Peter Hoar: The Last Of Us – HBO Max
Andrij Parekh: Succession – HBO Max
Mark Mylod: Succession – HBO Max
Lorene Scafaria: Succession – HBO Max
Mike White: The White Lotus – HBO Max
ROTEIRO
Andor – Disney+
Mal de Família – Apple TV+
Better Call Saul – Netflix
The Last Of Us – HBO Max
Succession – HBO Max
The White Lotus – HBO Max
MONTAGEM
Better Call Saul – Netflix
The Last Of Us – HBO Max
Succession – HBO Max
The White Lotus – HBO Max
ATRIZ
Sharon Horgan: Mal de Família – Apple TV+
Melanie Lynskey: Yellowjackets – Paramount+ e Prime Video
Elisabeth Moss: The Handmaid's Tale – Globoplay
Bella Ramsay: The Last Of Us – HBO Max
Keri Russell: A Diplomata – Netflix
Sarah Snook: Succession – HBO Max
ATRIZ COADJUVANTE
Jennifer Coolidge: The White Lotus – HBO Max
Elizabeth Debicki: The Crown – Netflix
Meghann Fahy: The White Lotus – HBO Max
Sabrina Impacciatore: The White Lotus – HBO Max
Aubrey Plaza: The White Lotus – HBO Max
Rhea Seehorn: Better Call Saul – Netflix
J.Smith Cameron: Succession – HBO Max
Simona Tabasco: The White Lotus – HBO Max
ATRIZ CONVIDADA
Hiam Abbass: Succession – HBO Max
Cherry Jones: Succession – HBO Max
Melanie Lynskey: The Last Of Us – HBO Max
Storm Ride: The Last Of Us – HBO Max
Anna Torv: The Last Of Us – HBO Max
Harriet Walter: Succession – HBO Max
ATOR
Jeff Bridges: The Old Man – Star+
Brian Cox: Succession – HBO Max
Kieran Culkin: Succession – HBO Max
Bob Odenkirk: Better Call Saul – Netflix
Pedro Pascal: The Last Of Us – HBO Max
Jeremy Strong: Succession – HBO Max
ATOR COADJUVANTE
F.Murray Abraham: The White Lotus – HBO Max
Nicholas Braun: Succession – HBO Max
Michael Imperioli: The White Lotus – HBO Max
Theo James: The White Lotus – HBO Max
Matthew MacFadyen: Succession – HBO Max
Alan Ruck: Succession – HBO Max
Will Sharpe: The White Lotus – HBO Max
Alexander Starsgard: Succession – HBO Max
ATOR CONVIDADO
Murray Bartlett: The Last Of Us – HBO Max
James Cromwell: Succession – HBO Max
Lamar Johnson: The Last Of Us – HBO Max
Arian Moayed: Succession – HBO Max
Nick Offerman: The Last Of Us – HBO Max
Keivonn Montreal Woodard: The Last Of Us – HBO Max
COMÉDIA
MELHOR SÉRIE
Abbott Elementary – Star+
Barry – HBO Max
O Urso – Star+
Jury Duty – Prime Video
The Marvelous Mrs. Maisel – Prime Video
Only Murders in the Building – Star+
Ted Lasso – Apple TV+
Wandinha – Netflix
ELENCO
Abbott Elementary – Star+
O Urso – Star+
Jury Duty – Prime Video
Only Murders in the Building – Star+
Ted Lasso – Apple TV+
DIREÇÃO
Bill Hader: Barry – HBO Max
Christopher Storer: O Urso – Star+
Amy Sherman-Palladino: The Marvelous Mrs. Maisel – Prime Video
Mary Lou Belli: The Ms. Pat Show
Declan Lowney: Ted Lasso – Apple TV+
Tim Burton: Treta – Netflix
ROTEIRO
Barry – HBO Max
O Urso – Star+
Jury Duty – Prime Video
The Other Two – Prime Video
Ted Lasso – Apple TV+
MONTAGEM (câmera única)
Barry – HBO Max
O Urso – Star+
Only Murders in the Building – Star+
Ted Lasso – Apple TV+
O Que Fazemos nas Sombras – Star+
MONTAGEM (multicâmera)
Call Me Kat – Globoplay
How I Met Your Father – Star+
Night Court
Família Upshaw – Netflix
ATRIZ
Christina Applegate: Disque Amiga para Matar – Netflix
Rachel Brosnahan: The Marvelous Mrs. Maisel – Prime Video
Quinta Brunson: Abbott Elementary – Star+
Natasha Lynonne: Poker Face
Jenna Ortega: Wandinha – Netflix
ATRIZ COADJUVANTE
Alex Borstein: The Marvelous Mrs. Maisel – Prime Video
Ayo Edebiri: O Urso – Star+
Janelle James: Abbott Elementary – Star+
Sheryl Lee Ralph: Abbott Elementary – Star+
Juno Temple: Ted Lasso – Apple TV+
Hannah Waddingham: Ted Lasso – Apple TV+
Jessica Williams: Falando na Real – Apple TV+
ATRIZ CONVIDADA
Becky Ann Baker: Ted Lasso – Apple TV+
Quinta Brunson: Saturday Night Live
Taraji P. Henson: Abbott Elementary – Star+
Judith Light: Poker Face
Sarah Niles: Ted Lasso – Apple TV+
Harriet Walter: Ted Lasso – Apple TV+
ATOR
Bill Hader: Barry – HBO Max
Jason Siegel: Falando na Real – Apple TV+
Martin Short: Only Murders in the Building – Star+
Jason Sudeikis: Ted Lasso – Apple TV+
Jeremy Allen White: O Urso – Star+
ATOR COADJUVANTE
Anthony Carrigan: Barry – HBO Max
Phil Dunster: Ted Lasso – Apple TV+
Brett Goldstein: Ted Lasso – Apple TV+
James Marsden: Jury Duty – Prime Video
Ebon Moss-Bachrach: O Urso – Star+
Tyler James Williams: Abbott Elementary – Star+
Henry Winkler: Barry – HBO Max
ATOR CONVIDADO
Jon Bernthal: O Urso – Star+
Luke Kirby: The Marvelous Mrs. Maisel – Prime Video
Nathan Lane: Only Murders in the Building – Star+
Pedro Pascal: Saturday Night Live
Oliver Platt: O Urso – Star+
Sam Richardson: Ted Lasso – Apple TV+
FILME OU MINISSÉRIE
Dahmer: Um Canibal Americano – Netflix
Daisy Jones & The Six – Prime Video
A Nova Vida de Toby – Star+
Obi-Wan Kenobi – Disney+
Treta (Beef) – Netflix
ELENCO
Dahmer: Um Canibal Americano – Netflix
Daisy Jones & The Six – Prime Video
A Nova Vida de Toby – Star+
Treta – Netflix
Weird: The Al Yankovic Story
DIREÇÃO
Lee Sung Jin: Treta – Netflix
Jake Schreier: Treta – Netflix
Carl Franklin: Dahmer: Um Canibal Americano – Netflix
Paris Barclay: Dahmer: Um Canibal Americano – Netflix
Jonathan Dayton: A Nova Vida de Toby – Star+
Dan Trachtenberg: O Predador: A Caçada – Star+
ROTEIRO
Enxame – Prime Video
Fire Island – Star+
A Nova Vida de Toby – Star+
O Predador: A Caçada – Star+
Treta – Netflix
Weird: The Al Yankovic Story
MONTAGEM
Dahmer: Um Canibal Americano – Netflix
Mrs. Marvel – Disney+
Obi-Wan Kenobi – Disney+
O Predador: A Caçada – Star+
Treta – Netflix
Weird: The Al Yankovic Story
ATRIZ
Lizzy Kaplan: A Nova Vida de Toby – Star+
Jessica Chastain: George & Tammy – Paramount+
Dominique Fishback: Enxame – Prime Video
Kathryn Hahn: As Pequenas Coisas da Vida – Star+
Riley Keough: Daisy Jones & The Six – Prime Video
Ali Wong: Treta – Netflix
ATRIZ COADJUVANTE
Annaleigh Ashford: Bem-vindos ao Clube da Sedução – Star+
Maria Bello: Treta – Netflix
Claire Danes: A Nova Vida de Toby – Star+
Juliette Lewis: Bem-vindos ao Clube da Sedução – Star+
Camila Morrone: Daisy Jones & The Six – Prime Video
Niecy Nash-Betts: Dahmer: Um Canibal Americano – Netflix
Merritt Wever: As Pequenas Coisas da Vida – Star+
ATOR
Taron Edgerton: Black Bird – Apple TV+
Kumail Nanjiani: Bem-vindos ao Clube da Sedução – Star+
Evan Peters: Um Canibal Americano – Netflix
Daniel Radcliffe: Weird: The Al Yankovic Story
Michael Shannon: George & Tammy – Paramount+
Steven Yeun: Treta – Netflix
ATOR COADJUVANTE
Murray Bartlett: Bem-vindos ao Clube da Sedução – Star+
Paul Walter Hauser: Black Bird – Apple TV+
Richard Jenkins: Um Canibal Americano – Netflix
Joseph Lee: Treta – Netflix
Ray Liotta: Black Bird – Apple TV+
Young Mazino: Treta – Netflix
Jesse Plemons: Amor & Morte – HBO Max
FILME PARA TV
Dolly Parton's Mountain Magic Christmas
Fire Island – Star+
Hocus Pocus 2 – Disney+
O Predador: A Caçada – Star+
Weird: The Al Yankovic Story
PRÊMIOS TÉCNICOS
EFEITOS VISUAIS
Andor – Disney+
A Casa do Dragão – HBO Max
The Last Of Us – HBO Max
O Mandaloriano – Disney+
O Senhor dos Anéis: Os Anéis do Poder – Prime Video
CENÁRIOS (Narrativa Contemporânea)
The Last Of Us – HBO Max
Poker Face
Succession – HBO Max
Ted Lasso – Apple TV+
Wandinha – Netflix
The White Lotus – HBO Max
CENÁRIOS (Épico ou Fantasia) 
Daisy Jones & The Six – Prime Video
O Gabinete de Curiosidades de Guillermo Del Toro – Netflix
A Casa do Dragão – HBO Max
The Marvelous Mrs. Maisel – Prime Video
Perry Mason – HBO Max
CENÁRIOS (Programa Narrativo)
O Urso – Star+
How I Met Your Father – Star+
Only Murders in the Building – Star+
Schmigadoon! – Apple TV+
O que Fazemos nas Sombras – Star+
FOTOGRAFIA (Série)
Atlanta – Netflix
Barry – HBO Max
How I Met Your Father – Star+
O Mandaloriano – Disney+
Only Murders in the Building – Star+
Schmigadoon! – Apple TV+
FOTOGRAFIA (Filme ou Minissérie)
Black Bird – Apple TV+
Dead Ringers – Prime Video
O Estrangulador de Boston – Star+
O Gabinete de Curiosidades de Guillermo Del Toro – Netflix
George & Tammy – Paramount+
EDIÇÃO DE SOM (Série)
Andor – Disney+
The Boys – Prime Video
A Casa do Dragão – HBO Max
The Last Of Us – HBO Max
O Senhor dos Anéis: Os Anéis do Poder – Prime Video
Stranger Things – Netflix
EDIÇÃO DE SOM (Filme ou Minissérie)
Um Canibal Americano – Netflix
O Gabinete de Curiosidades de Guillermo Del Toro – Netflix
Mrs. Davis
Obi-Wan Kenobi – Disney+
O Predador: A Caçada – Star+
FIGURINOS (Série)
The Crown – Netflix
The Great – Globoplay
The Marvelous Mrs. Maisel – Prime Video
Perry Mason – HBO Max
Rainha Charlotte: Uma História Bridgerton – Netflix
FIGURINOS (Filme ou Minissérie)
Bem-vindos ao Clube da Sedução – Star+
Um Canibal Americano – Netflix
Daisy Jones & The Six – Prime Video
O Gabinete de Curiosidades de Guillermo Del Toro – Netflix
George & Tammy – Paramount+
FIGURINOS (Fantasia ou Ficção Científica)
Hocus Pocus 2 – Disney+
A Casa do Dragão – HBO Max
O Mandaloriano – Disney+
Obi-Wan Kenobi – Disney+
O Que Fazemos nas Sombras – Star+
O Senhor dos Anéis: Os Anéis do Poder – Prime Video
FIGURINOS (Contemporâneo)
Emily in Paris – Netflix
The Last Of Us – HBO Max
Only Murders in the Building – Star+
Succession – HBO Max
Wandinha – Netflix
The White Lotus – HBO Max
FIGURINOS (Filme ou Minissérie Contemporâneo)
Bem-vindos à Vizinhança – Netflix
Dolly Parton's Mountain Magic Christmas
Enxame – Prime Video
A Nova Vida de Toby – Star+
Treta – Netflix
FONTE: Variety